It is always a delight to photograph Scott (he's also in a few of the October VPRS fashion show behind-the-scene pics), or just to see him around campus, because he always looks so put-together.
Before the past few months, I never understood or really appreciated the subtleties of menswear. I assumed that Vanderbilt frat-letes were the pinnacle of fashion, probably because their color palettes so reflected my own. Little did I know that there were details such as bow-ties and top hats, cardigans and trouser pleats, suit jackets and brogues and the calf sock to appreciate, as well. A lot of thought can go into menswear, and most times it's a seeing the woods for the trees type deal, adding details that go towards creating an ensemble that, well--works.
Back to Scott, though. This was probably my favorite street style photo of the bunch because his outfit just works. I love his use of contrasting neutrals when it comes to his army-green jacket combined with his trousers and boots. None of the pieces are extravagantly colored, but each holds its own and contributes enough so as to not get lost in the "noise" of too many pieces. The scarf on top adds a bit of fresh color and gives the outfit a focal point, as well. Speaking of layers, as you can see, there aren't too many obvious examples of layering here, yet his outfit look complete: not too busy, and not too sparse.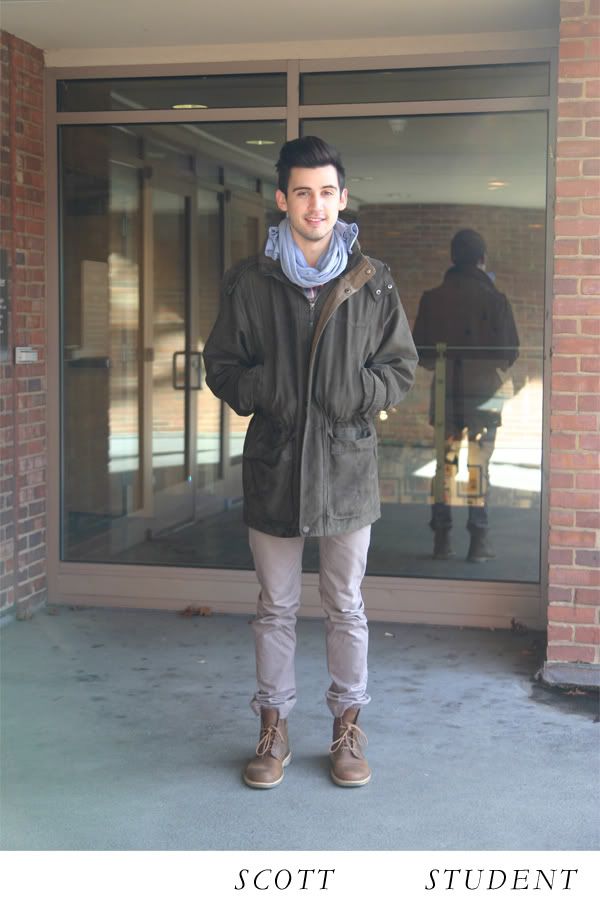 Thanks, guys! Look forward to an outfit post, and some sartorial "detail" posts from Winter Break.
Jenn